Back
06 October 2021
Ishraq Hospitality opens Holiday Inn Dubai Al-Maktoum Airport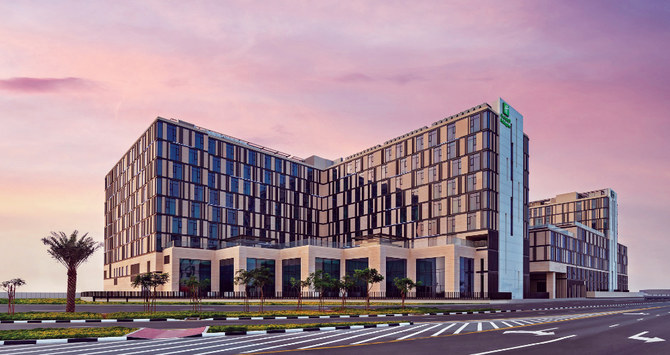 Ishraq Hospitality, a division of the Mohammad and Obaid Al-Mulla Group, announced the launch of its newest upscale hotel in the new part of Dubai located next to the Expo Dubai 2020 site.
Holiday Inn Dubai Al-Maktoum Airport comes in line with the company's expansion plans in the region and is adjacent to another successful property owned by the company — Staybridge Suites Dubai Al-Maktoum Airport — which comprises a total of 606 rooms.
The hotel also enjoys a strategic location as it is in proximity to Expo Dubai 2020, next to Al-Maktoum International Airport and top attractions such as Dubai Park and Resorts.
Touted to become a leading business destination, Holiday Inn Dubai Al-Maktoum Airport offers a 300-pax pillarless ballroom, boardroom with daylight, meeting rooms, business center and a co-working environment.
It also caters to the needs of families and leisure guests as it provides a perfect destination to escape the city hustle for a staycation with more than 600 rooms and apartments. Kids under 12 years can eat and stay for free. The hotel has a large 24/7 gym, spa, hair salon, yoga studio, pool lounge, and the South Central lounge, kitchen and terrace.
Chady Kanaan, general manager of Holiday Inn Dubai Al-Maktoum Airport and Staybridge Suites Dubai Al-Maktoum Airport, added: "Now that we have our two hotels open and running, we are looking forward to receiving our esteemed guests in our new properties right in the heart of this new business hub. And with the offerings we have, we are confident that we will be the hotels of choice for family and business travelers alike."
Alexander Suski, acting CEO of Ishraq Hospitality, said: "Given our success and legacy in Dubai and the rest of the UAE and GCC, it was only natural for us to expand our presence in the region and especially in the Dubai South area as it comes in line with the futuristic visions of Dubai for Expo Dubai 2020 as well as Al-Maktoum airport for the longer term."
When it comes to dining and entertainment, the hotel offers international cuisine selection, and a signature lounge and terrace concept that welcomes all neighbors at the South Central